If you are looking for a Bed and Breakfast in the UK then you've come to the right place.
The United Kingdom of Great Britain and Northern Ireland ( United Kingdom or UK ) occupies all of the island of Great Britain, the north-eastern portion of the island of Ireland and most of the rest of the British Isles . It is just off the northern coast of Europe. It is made up of four major countries -- England , Scotland , Wales , and Northern Ireland, as well as several islands protectorates. The UK is a patchwork of cultures with fascinating history and modern culture. Although Britannia no longer rules the waves, the UK is still a central destination for all travellers. The capital city of the United Kingdom (and of England ) is London, one of the great world cities.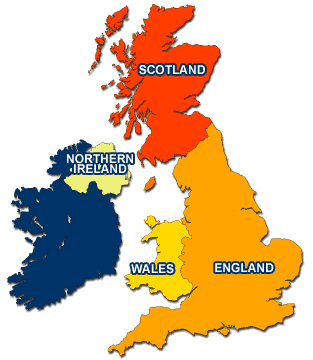 Click on the Area on the Map above where you want to stay.
Find your Bed and Breakfast Hotel and Guest House by Town Name or Postcode
Find your Bed and Breakfast Hotel and Guest House using Google Search Engine



Enter Hotel Name or Keywords - e.g. 'Dog friendly hotel'
NEW! Find your Bed and Breakfast Hotel and Guest House by Organisation Name
E-Mail this page to your Friends
You can copy and paste this text into an e-mail or other document E.g. A wedding invitation or corporate meeting circular. Simply click inside the window above. Press Control-a (to highlight everything) and then copy (type Control-c) the script on to the Clipboard. Go to your email program and click Edit... then Paste.
Find Alternative Hotels and Bed and Breakfasts with Price Comparison

Can't find exactly what your looking for? Searching many Travel sites for the lowest price?
Why not try our new site www.onlinehotelbooking.net which compares prices from all Hotels, Inns, Guest Houses and B & B booking sites all at once saving you the trouble. Free service.